Pipe Doctor Rooter Sewer and Drain Lateral Lining
Liner rehabilitation can be used in a variety of gravity and pressure applications such as sanitary sewers, storm sewers, process piping, electrical conduits and ventilation systems. Our system will allow you to repair cracked or broken pipes, eliminate roots, bridge missing pipe sections and stop infiltration and exfiltration. It can be used with virtually any pipe material including clay, cast, PVC, ABS and concrete. Liner systems can rehabilitate lines with 22°, 45°, and sweeping 90° bends and pipe diameter transitions. While conventional open cut replacement projects may take several days plus the cost of restoration materials, multiple Rooter Liner projects can be completed each day.
Once the line is cleaned it is televised and recorded. Then, the Liner material is measured, cut to length at the job site, and a vacuum pump is attached to eliminate entrapped air and make the wet out process easier. A two-part, styrene free resin is measured, mixed, and poured into the liner. The liner is wet out and wound into the Liner inversion drum. The liner is then inverted into the pipe allowing the epoxy resin to bond and seal with the host pipe and create a continuous rehabilitated line without joints. All work is performed in conformance with the industry standard ASTM F 1216 Standard Practice for Rehabilitation of Existing Pipelines and Conduits by the Inversion and Curing of a Resin Impregnated Tube.
Pipe Doctor is committed to being your partner in trenchless rehabilitation and replacement.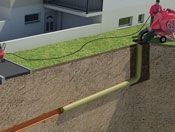 Trenchless Lateral Rehabilitation with Pipe Doctor's Liner Cured-in-place Lining Systems
Residential Service Areas
We work in various cities/towns, if you are unsure if we can serve you, please contact us!
THE GREATER TOLEDO AREA
Maumee
Oregon
Perrysburg
Sylvania
Toledo
Waterville
NORTHWEST OHIO CITIES
Archbold
Bowling Green
Delta
Findlay
Grand Rapids
Pemberville
Swanton
Whitehouse
SOUTHEAST MICHIGAN CITIES
Bedford Township
Lambertville
Ottawa Lake
Temperance