Sewer Lines and Drains
Complete Drain Cleaning and Sewer Line Repair in Toledo
Contact the experts at Pipe Doctor today!

Video Pipe Inspections
Toledo and The Surrounding Area's Master Plumber Sewer and Drain Cleaning Experts
Pipe Doctor, Toledo's most referred licensed plumber, is the go-to sewer and drain solution expert professional. There is no reason you should ever have a water backup and not know exactly why it has backed up. Call the drain experts we'll solve any issues once and for all!
In the Black Swamp, sewer and drain clogs are common and can typically be handled relatively quickly, but every so often there's an issue that may get beyond that point and need more extensive repair methods. When drain or sewer lines need to be replaced, we are trusted by other reputable local plumbers to help solve the most difficult or complex sewer and drain issues due to our extensive knowledge and capabilities. We are the plumber, other plumbers call!
For more information on our services and pricing please contact us today. We here at the Pipe Doctor look forward to hearing from you soon!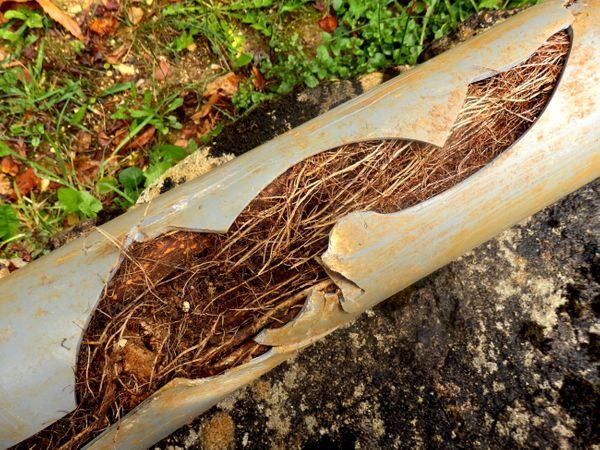 Roots growing in pipes
Sewers and Drains That Need To Be Cleaned Are Caused By The Following Failures:
Some common wastewater failures are due to age and outdated methods of installation and materials that have met their limits.
Blockage caused by 'flushable' / baby wipes, feminine hygiene products, paper towels, grease.
Fitting or joint connection seal that leaks and causes separation that if left will just get worse over time until flow is restricted or stopped completely
Tree roots find a slight issue as a source of nutrients and start to attack, impede, grow in and crack the sewer
Settling of causing bellies and or offsets in the line and fittings acting like a traffic jam on the highway
Accidental damage from work being done by others in the area
Harsh chemicals that corrode or eat away at the line to the point it looses its structure and integrity.
MOST OF THESE ISSUES IF CAUGHT SOON ENOUGH WITH A SEWER CAMERA INSPECTION CAN BE REPAIRED OR REHABILITATED INTERNALLY WITH C.I.P.P LINING OR POINT REPAIRS
Sewer Line Repair
Video Pipe Inspections
Sewer Pump Replacement
Pipe Patch
Clear clogged main sewer lines
Repair broken sewer lines
Clogged Toilets and Toilet Drain Cleaning
Sewage Back Ups and Main Sewer Drain Cleaning
Clogged Sink Drain Cleaning
Flooded Basements
Sewer Odor Diagnostics and Locating
Laundry Tub Drain Cleaning
Blocked Dishwasher Drain Cleaning
Blocked Garbage Disposal Drain Cleaning
Backing Up Toilets and Blocked Sewers
Stopped Sinks, Basin and Tub Drains
Clogged Shower Drain Cleaning
Snaking Slow Bathtub Drains
Blocked Outside Drain Cleaning
Floor Drain Back Ups and Floor Drain Cleaning
Roof Drain Cleaning and Stopped Stack Drain Snaked
Snaking Backed Up Drains, Sewer Snakes, Unclogging Drains
Residential & Commercial Sewer & Roto-Rooter Drain Cleaning
Hydro or Water Jetting
Sewer, Drain, Gas and Water Line Repair and Replacement
Commercial Sewer & Drain Cleaning
Grease Trap and Interceptor Repair, Maintenance and Installation
Sewage Lift Station Repair, Service, Preventative Maintenance and Installation
PipePatch NO DIG Sewer & Drain Repair
PipePatch NO DIG Sewer and Drain Repair System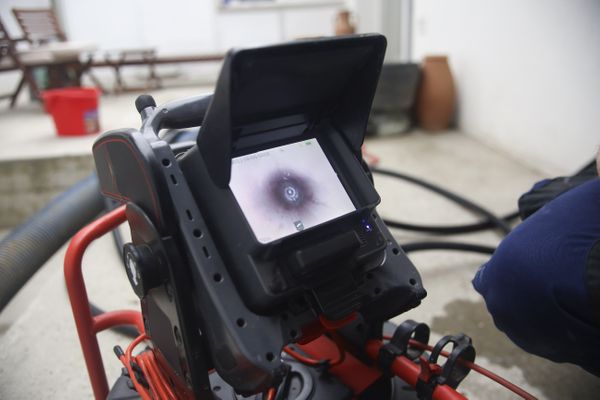 Expert Drain Cleaning Services Include Experience, Training and Technology
When it comes to a sink, toilet, sump pump, washing machine, or main sewer line clog that just won't clear, your best bet is to call Pipe Doctor, the reliable drain cleaning company. We have the tools, training, experience, knowledge, and technology needed to handle all stopped-up sewers or drain.
And even though it may seem like a nightmare, the plumbers and staff at Pipe Doctor take extreme pride in making sure every sewer and drain issue is solved properly by providing a thorough evaluation and going over every possible solution to meet your needs and budget. Our technology including sewer cameras, trenchless sewer line replacement, flex shaft, direction boring and good ole elbow grease.
We also understand that even the most well prepared very rarely budget for what they can't see. For those situations we teamed up with some amazing local banks and financing agencies to help completely solve even the most severe sewer and drain emergency situations.
Emergency Service Available
24 Hour Emergency Roto-Rooter Drain Cleaning Services 
Remember, if you have a clogged drain or a toilet backing up in the middle of the night, get the Pipe Doctor! We want to be your personal favorite plumber. We have been unclogging backed up Toledo sewers and drains at Rossford homes, Toledo condos, Maumee townhouses, Northwood houses and many other residential establishments in Northwest Ohio for generations!
Feel Good Knowing You Are in Good Hands!
Call our plumbing professionals first and feel good knowing you are in Good Hands! Our representatives are available 24/7 365 to help schedule your sewer and drain service emergency solution and dispatch a trusted expert technician or crew.
Why We Are One of The Most Referred Plumbers in Toledo:
Available around the clock for immediate response
Un-matched Work Ethics
Pride in all we do
Family Owned and local roots in the community
Licensed plumbing experts
Friendly, personable professionals
Bonded and insured
State-of-the-art equipment technology like Jetting, inspection cameras, trenchless solutions and more
There's a reason they call us when it needs to be done…. And done RIGHT! We take EXTREME pride in ALL WE DO! From the work we perform, whether cleaning up a clogged kitchen sink or taking care of a smelly floor drain.
You can count on our team for the following cleaning services:
Clogged Kitchen Drains: When soaps, fats, grease, and food go down your kitchen sink, the inner walls of your kitchen pipes can easily be clogged with buildup, causing an unwanted blockage.
Sewer Gas Smells: Broken Floor drains, plugged vents, cracks in pipes, improperly connected lines or leaking traps can allow for harmful sewer gases to creep out of what is supposed to be a closed, sealed sanitary plumbing and vented system.
Clogged Bathroom Drains: Hair, soap buildup, toothpaste, grime, toilet paper, and other bathroom products can all do serious damage over time and cause major plumbing issues. Tackle these problems before they evolve into something more severe!
Clogged Utility Room Drains and Toilets: Dirt, debris, and other messes can clog floor drains in basements or utility rooms, leading to poor drainage and the potential for flooding.
Clogged Sewer Drains: The sewer drain transports your home's gray and black water to the sewer. Any blockages can cause significant problems.
If your drain is running slowly or completely stopped up, you know who to call. Pipe Doctor Plumbing, we have the all the tools, training and technology to provide the most effective drain and sewer services that will restore your plumbing system and bring comfort, safety and normalcy back to your home or business with care and at an unimaginable pace. Contact us today at (419-877-2833) or schedule a job online!
Need help with commercial sewer or drain problems? We do that too!
Camera / Video Pipe Inspection Services
Pipe Doctor can inspect your sewer lines and pipes with the latest in video camera pipe inspection technology. A camera is maneuvered through your pipe which allows us to actually see and diagnose difficult problems for all of our Northwest Ohio residential and commercial customers.
Tired of wasting money rooter snaking the same line over and over? See what's really happening! Being able to see inside your pipes allows us to diagnose the problem quickly saving you time, money and damage caused by backing up Toledo sewer lines. Once we identify the problem we can fix it by repairing or replacing damaged Maumee sewer lines and pipes. We now even have the technology to repair your Oregon sewer line without digging
Possible problems we can diagnosis with our video camera pipe inspections are:
Blockages where an object, sludge, grease accumulation or debris in the line may be the cause
Stoppages caused by tree or shrub root infiltration into the pipe or sanitary sewer line
A collapsed, broken or cracked pipe or sewer or drain line
Misaligned joints, settlement deficiencies or separated lines
Pipe Doctor's emergency response team can take care of your plumbing emergencies. Whether it is for residential or commercial applications, our technicians are well trained to take care off all emergency situations.
We can promptly rectify the situation and bring chaos back to normalcy. If you have a plumbing related emergency, look no further we are the area leader in Emergency service, repair, installation, and response.
We can work on all aspects of your plumbing system. When you are in need of plumbing, gas, drains, or sewer help, please call Pipe Doctor for professional, prompt service when you need it most! Pipe Doctor answers the phone live 24 hours a day 365 days a year for all plumbing emergency needs.
Our technicians can come out immediately and rectify any situation to bring your mind to ease. Here at Pipe Doctor we take extreme pride in helping each and every customer in Northwest Ohio 24 hours a day every day of the year. We even offer special Preferred Patient Plans that guarantee Priority Emergency Scheduling.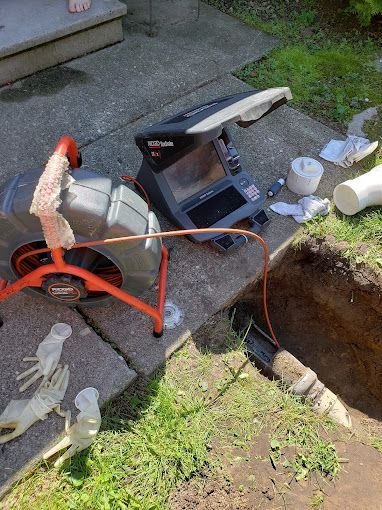 Sewer Line Inspection With HD Camera
Leak Detection
Got A Leak? We Can Help!
Our professionals can provide a variety of methods to pinpoint the source of the issue, such as infrared leak detection, water leak detection, and leak location. Not only are our services highly effective—we can also detect potential issues before they become serious problem. Some signs of a leak include sewer flies or gnats, foul odors or sewer gas, unexplained illnesses, wet spots in walls or ceilings, and cracks in slab or concrete floors. We'll be able to accurately locate and identify the problem before making any necessary repairs and determining more permanent solutions.
Pipe layers before PipePatch

Pipe layers after PipePatch
Pipe Doctor Offers Pipe Patch
No Digging? No Problem With PipePatch!
Is PipePatch for Me?
If you have a crack, break, or separation in a drain pipe 2" or larger in diameter, then PipePatch is definitely right for you. If conventional repair would require you to tear down walls, break up floors, or perform any other kind of demolition in order to access the pipe, then PipePatch can save you a substantial amount of money over traditional repair, and you won't have to deal with the headaches of restoration.
So, if you smell sewer gas or experience sewer odor, have frequent sewer backups, or suspect a hidden leak, give us a call. The Pipe Doctor can determine whether PipePatch is right for you. We can perform a sewer or drain video inspection to inspect the damage from the inside of your pipes. And for the more difficult to find drain leaks, we can perform our Smoke Test.
RESIDENTial Service Areas
We work in various cities/towns, if you are unsure if we can serve you, please contact us!
Oregon
Perrysburg
Sylvania
Toledo
Waterville
Archbold
Bowling Green
Delta
Findlay
Grand Rapids
Pemberville
Swanton
Whitehouse
Bedford Township
Lambertville
Ottawa Lake
Temperance
Sewer Problems - Things to Look For
Smell Sewage Odors
Backed Up Toilets
Drain Issues
Slow Draining Sinks
Frequent Clogs