Generators
A permanently installed Generac home backup generator protects your home automatically. It runs on natural gas or liquid propane (LP) fuel, and sits outside just like a central air conditioning unit. A home backup generator delivers power directly to your home's electrical system, backing up your entire home or just the most essential items. How it works.
HOME BACKUP. POWER. COMFORT. SECURITY. CONVENIENCE.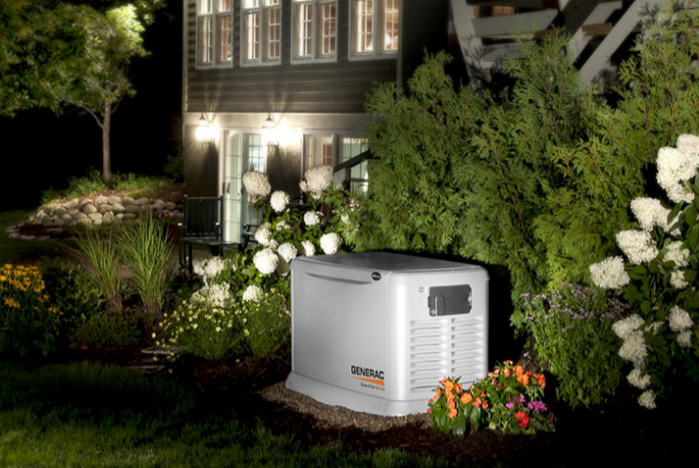 Automatic Operation
Don't worry about having to be there to start and stop your Generac home backup generator because it does that automatically - whether you're home or away.
Refueling Not Necessary
Your Generac home backup generator runs on your existing natural gas or LP fuel supply. Save the gas cans for your other outdoor power equipment.
Power Directly to Your Home
You'll never have to run an extension cord through a window or door again. Your Generac home backup generator safely delivers power right to your home's electrical panel.
Eric the Pipe Doctor has specialized in gas line work since he began working in the family business full time at the age of 17. Rest assured we not only know how to run gas, we know how to do it safely and properly. Most importantly we know how to properly size the gas line. Do not hesitate to give us a call today.
Generators
You shouldn't have to put your life or business on pause when the power goes out. Prevent power outages from stealing your time by installing a Generac™ generator. Contact Pipe Doctor in Northwest Ohio, at (419) 690-6058, and you'll never worry about power outages again.
Residential Generators
When you've absentmindedly tried flipping the lights "on" for the fifth time, a blackout starts getting frustrating – that's when you can count on your Toledo Gernerac™ generator provider, the Pipe Doctor. Your house is too hot or too cold, the food in your freezer is starting to thaw, you're losing precious hours of work and family time, and you can't see where you're going. Install one of our generators and stop stumbling in the dark. These trusty generators automatically turn on within ten seconds of a power outage. Contact Pipe Doctor Today at (419) 690-6058 to speak with a representative about which generator is the best fit for you.
The Generac™ Advantage
While portable generators may seem convenient, an automatic standby generator is a far more dependable and not to mention safer choice. Below are just a few reasons to choose a generator installation.
Our units run on natural gas or LP gas, both of which are far less costly than gasoline.
As soon as the power goes out, an automatic standby generator will start running, whereas a portable unit requires considerable setup time and several extension cords to properly supply your home or business with power.
Our units provide 24/7 protection—even if you're away from your home or business.
The American Red Cross recommends automatic standby generators and warns against the hazards of portable units.
Commercial Generators
For a small business, the loss of revenue sustained from a power outage can be crippling. Even a few hours of downtime could mean substantially fewer customers and the potential for damaged equipment and goods. Installing a Generac™ generator is a wise investment—after providing backup energy for just one outage, it may even pay for itself. Pipe Doctor installs commercial generators that provide up to 150 kilowatts, suitable for businesses measuring up to 20,000 square feet. Speak with one of our Generac™ experts to make sure you're purchasing the right unit for your building, and stop losing money every time the power goes out.
Whether you're preventing home power outages or ensuring your business's productivity, a Generac™ generator from Eric at Pipe Doctor is the right choice Call us TODAY at 419-877-2833 to talk to an expert, and start down the path towards reliable energy. In addition to generator sales, we also provide commercial plumbing, drain and sewer cleaning, Backflow and Water meter testing and certification and so much more…. throughout the Toledo, OH area.
Generator Repair
While our units are highly dependable, even the most reliable of machines needs generator service from time to time. Every generator we install comes with an optional maintenance contract. We'll schedule an appointment to inspect your unit three months after its initial installation, ensuring it continues to run smoothly. Our trained technicians then come to you home every year to do yearly maintenance. Our contract also entitles you to 24-hour emergency service and replacement parts. Even if we didn't install your Generac generator and you're burning the midnight oil when the power goes out, it's not a problem. Just give us a call, and we'll rush over to fix your generator. We can also repair portable Generac generators.
RESIDENTIAL SERVICE AREAS
We work in various cities/towns, if you are unsure if we can serve you, please contact us!
THE GREATER TOLEDO AREA
Maumee
Oregon
Perrysburg
Sylvania
Toledo
Waterville
NORTHWEST OHIO CITIES
Archbold
Bowling Green
Delta
Findlay
Grand Rapids
Pemberville
Swanton
Whitehouse
SOUTHEAST MICHIGAN CITIES
Bedford Township
Lambertville
Ottawa Lake
Temperance