Cleaner Magazine Feature
Patching and Repairing Ohio's Pipes
Ohio contractor's family tree has produced four generations of plumbers with firm roots in the Toledo area.
Eric Wagner and his wife, Jenny, began writing their own chapter of a four-generation plumbing tale a decade ago.
Like his father, grandfather and great-grandfather before him, Wagner's story is laid out like a labyrinth of water and sewer lines, reaching back more than a century and extending well into the Toledo, Ohio, area's future.
Growing up in the plumbing industry provided a wealth of perspective and experience, from basic plumbing and repair to working in new construction. Wagner learned the industry from the ground up, including the importance of customer service and using it as a foundation for good business. Pipe Doctor, which the Wagners opened in 2006, is built around the old-fashioned and family-proven premise that service is the key.
Wagner, equipped with a pickup truck, his master plumber license and some homemade business cards and fliers, formed the company as a plumbing shop. He also brought in the latest drain cleaning and repair technology, and the menu of services now includes sewer cleaning and repair, CCTV inspection and pipe bursting. The customer base is running 60 percent residential and 40 percent commercial and municipal. He does about 50 percent in plumbing and 50 percent in sewer.
Building a base
As the customer base grew, so did the service offerings. By 2012, the company was providing point repair using PipePatch from Source One Environmental, and pipe bursting soon followed with HammerHead Trenchless Equipment.
The company currently has an agreement with the City of Toledo, taking care of residential sewer lines that lie within an easement. The city has its own equipment for maintaining the mainlines, but when problems arise they contact Pipe Doctor, have them go out and inspect the line to see if point repair is a suitable solution. Wagner will contact the homeowner and then work with the supervisor and the inspector, who will be on site while repairs are carried out.
"We have also developed a relationship with the City of Sylvania, a suburb of Toledo," he says.
A recent job in Sylvania involved a 12-inch clay pipe that ran under Sylvania Avenue, a major thoroughfare. The city was concerned about a developing sinkhole in the road, and inspection found issues in the pipe. The major spot had water and sand coming up through the bottom of the pipe continuously, right where the sinkhole was starting. Water was also infiltrating other spots, which Pipe Doctor was able to repair using its PipePatch system.
Wagner expects more opportunity with Sylvania and other municipalities that aren't equipped for these types of repairs. Currently, they can repair pipes from 2 to 15 inches with their equipment. "We can even go as low as 1 1/2-inch pipe with our repair," he says.
Pipe Doctor has also been called in as a subcontractor on some new construction, as well as for other plumbing firms in the area where drain cleaning, patching or repairs are needed.
"We have other technology besides point repair where we can help other plumbers who don't have the technology.
"They will either give us the job, tell the customer to call us, or in some cases will want to make a little money, and ask us for a price and mark it up a bit," Wagner says. "We have great relationships with other contractors in the area, and we would never solicit their customer. We have uniforms and our trucks are marked, but that has never been a problem. We are always professional. We just want to help the customer."
Wagner says customers are more comfortable with a marked van on the property because there are so many scams going on. They like to know who is working on their problem.
"In the older sections of the cities the infrastructure is also getting older. With the sewer lines, they have old clay with lots of infiltration and separated joints. These have been around for 40 years or more. That seems to be our primary call volume now, taking care of the sewers. We have a couple calls a day with these problems.
"In the new neighborhoods and subdivisions they have plastic lines, and we get calls where people want new fixtures, new toilets or they need a sump pump or a water heater."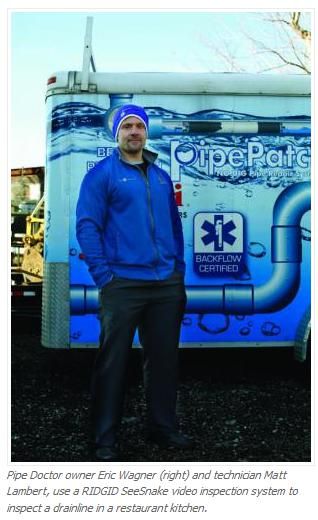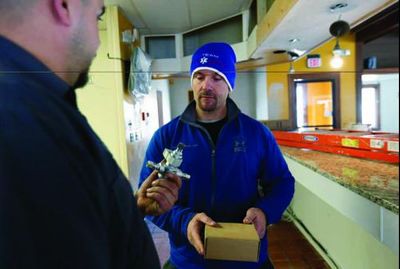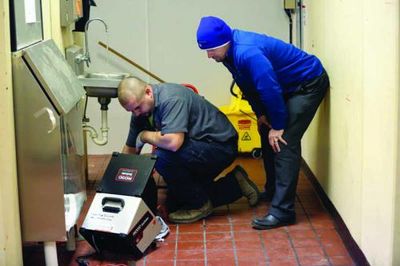 A better system
In 2014, Wagner brought in ServiceTitan software, and it has been a game changer for the company. This has been helpful for management, training and keeping track of ongoing projects.
"It has all the pricing and dispatch software. It's an all-in-one service management program," Wagner says. "It gives me and Jenny benefits because it keeps track of all the numbers every day. You have a dashboard and you can look at all the key performance indicators. You can do special reports. I can go in anytime from my phone or iPad, or laptop, or desktop, and see exactly where everyone is, and what they are doing. All that information is there."
Wagner says the program has also helped with training and coaching employees.
"Before, I was teaching off of memory and emotion," he says. "Now you have actual numbers that you can go to. You can actually see how a job was handled, and it helps in training and coaching and managing."
The plumbers have a mobile version, and if they need to purchase something they can enter the details. It lets them know how they are doing on each job. It dispatches and marks drive time with GPS, and logs job and invoice information.
He says proper training is time-consuming but well worth it. He prefers hiring either licensed plumbers or those who want to enter an apprenticeship program, and new hires spend a lot of time on in-house training regardless of their experience.
"I like to spend as much time as possible with a new hire going over ServiceTitan, and also the way we do things, because it is so much different than what a normal service company does. Plumbers are used to going in and fixing a job and leaving, and not having to do anything on a computer or a phone. It takes a lot of time getting used to that, and finding out what they know and what they don't know. So we have a lot of technology for them to learn and our equipment. We do more than fix toilets."
Wagner wants all his technicians and plumbers to be cross-trained so they can be proficient with all equipment and processes. He has also honed up his own interviewing skills as he looks for new employees. "Before, I was looking at people who would say what they thought I wanted to hear," he says. "I would be looking for people who knew everything about plumbing, wanted to be a plumber.
"Now I've done a reversal on those questions. I have about 15 questions that I ask, and they're aimed at getting to know more about the type of person it is. What are their goals, hobbies — if they just need a job. You want to know before you hire so you are making a smart investment. My questions help me know what they are thinking. Sometimes a person will say they have never been asked those types of questions before. I have learned there are different ways of doing things, and this has helped me to expand and grow. I have evolved and changed my thinking."
Well equipped
Pipe Doctor's fleet consists of a mix of Ford, Chevy and Nissan service trucks, in addition to the enclosed trailer that is set up for PipePatch point repairs. The trucks are well stocked with tools and inventory, as is the trailer, with confined-space equipment, a compressor, generator and other gear.
The team relies on a trailer jetter (40 gpm/3,500 psi) with a 600-gallon water tank for cleaning sewer lines, along with a HammerHead Portavision camera and numerous other RIDGID cameras and locators.
The company is a 24/7 operation, with four plumbers sharing responsibility for emergency calls.
"We will have at least one tech on call every day, and if we have bad weather we may need everyone to help out and pitch in. We may have heavy rains and flooded basements, with sump pump and sewer problems.
"We have had many consecutive days below zero in the past, and had nonstop flooding in the lines. We have to be ready for whatever."
Wagner says the plumbers typically take their trucks home rather than return to the yard. The company has facilities in Toledo and the suburb of Perrysburg. They have parts inventory at both locations, and also have supply houses nearby so they never run out of equipment or materials.
"With the services we offer we have endless responsibilities," he says.
"We always keep in mind that plumbers and drain cleaners protect the health of the nation. Sewage is bad for everyone and water needs to be good for us. And we need gas to keep warm and cook. In our company, we take care of it all."