Create your own Backyard Oasis in Toledo
Pipe Doctor can help you make the backyard of your dreams!
Are you looking for a backyard oasis to share with friends & family?
From March to November in the Toledo area, enjoy the seasons outside with your loved ones. Customize your yard to meet your lifestyle and partake in activities such as grilling out in your outdoor kitchen, taking in the glow of gas torch lights, admiring your new fish pond or fountain, and more.
Creating a backyard oasis is a great way to elevate your outdoor living space and create a relaxing retreat right in your own backyard. One of the most important things to consider when designing your backyard is the role that utilities play in making your space functional, enjoyable, and comfortable. While often overlooked, utilities are an essential component of any backyard oasis that will enhance your outdoor experience in Toledo, Ohio.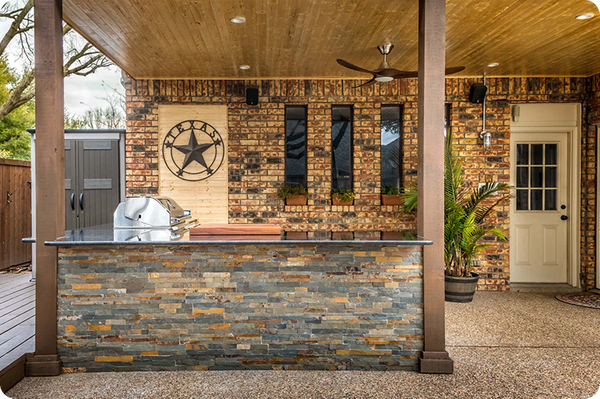 Utilities such as gas lines, drain lines, water lines, and electricity are all vital for transforming your backyard oasis from an idea into reality. Natural gas systems are crucial utilities for outdoor kitchens, fire pits, and torch lights. Outdoor kitchens allow you to cook outside and enjoy the beautiful weather, while fire pits provide a place for warmth and relaxation. A gas line will enable you to power up your outdoor grill, stove, or fire pit to prepare meals outdoors while enjoying the fresh air.
Water is another essential utility that you can't do without in your backyard oasis. Water heaters are necessary to heat outdoor showers, and sinks, while plumbing systems keep water flowing to your outdoor kitchen, faucets, hoses, fountains, and fish ponds. Electricity is another vital utility for creating the perfect outdoor living space as it is essential for outdoor lighting, outlets, fans, and kitchen appliances such as refrigerators and microwaves.
Here are some of the common features of a backyard oasis that require utilities installation:
Gas line for an outdoor kitchen or grill
Gas torch lights
Electrical outlets for lighting, appliances, or entertainment systems
Water lines for fountains, fish ponds, and kitchen appliances
Propane storage and distribution systems for outdoor heaters or fire pits.
Installing these utilities can make your backyard oasis more efficient, convenient, and comfortable. Luckily, you don't have to do this by yourself. The Pipe Doctor in Toledo, Ohio can assist with the proper, custom-fit installation of these utility systems to ensure that your backyard is the paradise you need!